RHEED Unit
RHD-30K-034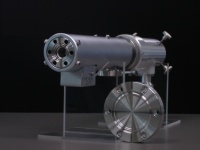 Fundamental unit of PASCAL Reflection High-Energy Electron Diffraction (RHEED) consists a compact size electron-gun with mounting via CF1.33" (ICF34) flange.
The compact size e-gun brings easy mount to a vacuum chamber or easy maintenance.
And RHEED observation at high-pressure condition or sample-in-plane parallel scanning of e-beam in RHEED observation can be realized in combination with optional unit.